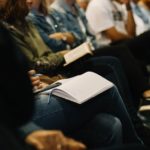 Join MSP students Dima Swaidan (PsyD 2), Nada Hashem-Younes (PsyD 3), and Farah Zoabi (PsyD 2) for this workshop designed to build cultural competence for students in understanding sexuality in the Arab American Community.
Snacks and drinks will be provided. Please RSVP to Carrie ([email protected]).
This event is part of Student Engagement's June theme of Sexuality.