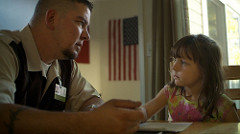 Join us for a free screening of the PBS POV film "Of Men and War" created by filmmaker Laurent Bécue-Renard. 
Doors will open at 5:00 PM; The film will begin at 5:30 PM. A Q&A session with a panel of experts including Carrie Nantais, PhD, who completed a predoctoral clinical internship at the John D. Dingell VA Medical Center, working with Veterans' mental health in both PTSD and substance abuse and current PsyD student and veteran Kelly Frazee will follow the film.  Dinner will be served.
Please RSVP to Carrie ([email protected]). This screening is part of January's Student Programming theme of Trauma.  

This event is a collaboration with POV, PBS' award-winning nonfiction film series. For more information, please visit: http://www.pbs.org/pov/.