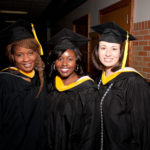 Congratulations to the Class of '19!
Join us for this annual commencement ceremony honoring this year's graduates! 
Attention Students: 
The graduation application is due May 22, 2019. Please visit the commencement website for the graduation application as well as information about the ceremony, cap & gown orders and FAQ's. Any questions? Contact Amanda ([email protected]).