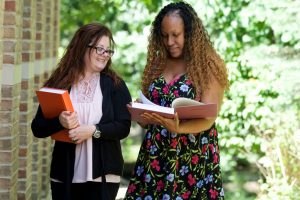 The Moustakas Johnson Library provides access to a highly specialized collection of books, audiovisual materials, psychological testing kits, and electronic resources in psychology and related disciplines. The selection of resources supports MSP coursework and also includes many foundational works related to the school's humanistic tradition. 
In addition, library patrons have access to a carefully curated array of online resources featuring psychology databases and electronic books targeted to their academic and clinical needs. The Moustakas Johnson Library provides students with both on-site and remote access to these electronic resources.
Browse the library's catalog here.
Additionally, the library provides access to psychological testing and statistical software, such as Q-Local and SPSS, to support student coursework.
Special Collections
The library maintains special collections that include a collection of titles by Clark Moustakas and an Alumni Collection featuring works authored by graduates of MSP. Print copies of doctoral dissertations and masters' theses produced at MSP over the years are housed in the library. More recent doctoral dissertations are found online in ProQuest Dissertations & Theses.
Acquisition
The library reserves the right to acquire and retain any type of material deemed necessary and valid for conducting research and completing coursework. As noted by the American Library Association's Intellectual Freedom Principles and Library Bill of Rights, these items may include those considered to have questionable or controversial content.  The library also reserves the right to de-select resources determined to no longer meet the needs of its patrons.
Placing Orders
Suggestions for purchase of new materials are welcome from all members of the MSP community.