Why MSP?
Learning from the Inside Out
"It is incredible to look back to my early experiences as a Master's student and to notice how much my world has since expanded. My personal and professional expansion has much to do with MSP's culture, which understands the original meaning of the word educate (educare): "to bring forth." As a result, my growth feels like it is mine, because it has been brought forth from that which has been with me all along. As I approach the last year of my doctoral experience, I feel confident and well- prepared for the complex clinical encounters ahead." -Troy Piwowarski, PsyD Program
Why should you choose MSP for your graduate education? Because there's no other place like it. When you walk through our doors, you step into an environment that is rich in human interaction, and collaboration, while focusing on realizing one's full potential. At MSP each individual's uniqueness is valued; students learn to accept and prize others and to more fully understand the human experience.
In a rigorous academic and clinical environment, students experience the personal growth that results from self-study, self-acceptance, and self-confidence. Our cohort model acts as a laboratory for the study of relationship. Students are given the opportunity to discover their inner resources as a means of becoming effective change instruments for others.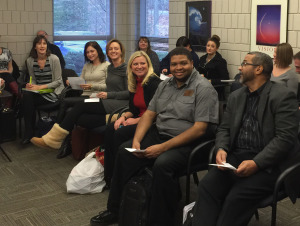 As an MSP student you'll be trained in establishing life-changing therapeutic relationships, which lies at the core of humanistic psychology. You'll learn how to communicate clearly, confront when necessary, manage conflict, and sit with others' emotional distress. You'll find yourself among faculty members who model excellence in all aspects of the psychology profession, including academics, clinical competency and scholarly research.
We hope you'll join us at MSP where you will experience a unique educational experience while developing the inner strength, fortitude and confidence to make a difference in the lives of others.